Three months ago, I discovered the popular all-in-one workspace application Notion. And I've been using it ever since. A lot has changed since I first discovered it. I added in new pages, changed existing ones and tried to perfect my set-up as much as possible. Now, three months later it's time for an update. Continue reading to find out my thoughts about Notion and how I it 3 months later.
My thoughts
I still use the Notion pages I created 3 months ago. I didn't delete any, I only adjusted and optimized my existing pages and created new ones. A good tip for creating pages you will actually use is to think before you create. First, think about what you need, what you want to track and what you want to use it for. Then, you can start creating pages from scratch or look up inspiration online. This way, you're not overwhelmed by the options and you don't create pages that you don't need.
The main thing I love about it is that I now have everything in one place. I don't need different apps for to-do lists, habit tracking, and more. Everything I need is on Notion and I can personalize it to what works for. I used to have tons of different apps and I never felt like they were the best ones for me. I always kept looking for something better. Now, I can just adjust my Notion pages to my current needs. Below I've listed some of the main pro's and con's:
Pro's
The lay-out is fully customizable to your preferences
You can use it for everything. From note-taking, to to-do lists and planning
Notion has great pre-made templates to help you get started
Con's
It's online only
Loading complex pages or large databases can take up a bit of time
It takes a while to create your set-up
How I use Notion
I use Notion for a lot of different things. From a habit tracker to a reading journal and my blog content calendar. I've made pages for everything I find useful and need to keep track of. In the three months I've been using this tool, I didn't create that many new pages, because for me less is more. I want a workspace that I'll use. That's why my dashboard is pretty minimal. It's just a plain and simple overview of my pages.
Because most of my pages stayed the same, I'm only going to talk about the pages that changed the most or that are new. Want to see how I used Notion when I first discovered it 3 months ago? You can find that blog post here.
Planner
I already had a planner page, but it only had a monthly overview, an ideal routine section and a weekly planner page. Now, I've added a daily planner page. Along the way I realized I could really use a daily planner page. For me a good planner is key for being productive and staying on top of things. That I love productivity is definitely visible in my Notion layout. Although I still feel I can optimize it even more and make it even better.
Digital Recipe Book
I love good food. Both cooking and eating it. I use Pinterest to save new recipes, but I felt like it was missing something. I needed a place where I could adjust or add something to a recipe. After seeing some inspiration online, I decided to create a digital recipe book in Notion. It still has a long way to go, but at least I can personalize my favorite recipes.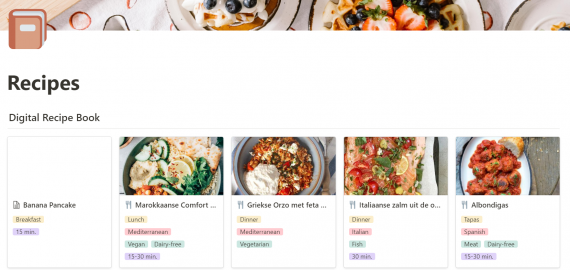 Blog Section
Three months ago, I only had 3 pages in my blog section (basics, content calendar and ideas) and now I have 5. I added in a hashtag tracker and a drafts page. Having these pages makes it a lot easier to prep blog posts and social media content. I write down specific ideas in a draft or already check the hashtags I would like to use in my next Instagram post.
After 3 months, I still use and love Notion as much or maybe even more than when I first discovered it. I can create anything I need and make it look just like I want to and what works best for me. I keep adjusting and optimizing along the way and I always seem to find new ways to use this application.
Interested in using my set-up yourself? 👉🏼 Get my Notion Template here.
What productivity tool do you use?
Save this blog post for later!