After giving your wardrobe a thorough clean-out, it's time to fill it with essentials. A Capsule Wardrobe needs the right pieces. It should be a timeless collection of clothes that fit together.
Did you miss part one of this series? Don't worry, you can find it here: Build a Capsule Wardrobe you'll love | Part 1 Closet Detox.
Every season is different, and that's why each season has its basics. These essential items are the building blocks of your outfits. Having a good set of basics will make it easier to put together pretty outfits without having to spend hours in front of your closet.
Winter 2022 Essentials
I made a list of all the items I consider Winter essentials. These are pieces that will help you build a strong foundation for your winter capsule wardrobe, so you can easily create outfits you love. This list is definitely not complete or something you have to follow exactly. These are items that I like, that fit my style and body type. And as you see, I didn't include any skirts or dresses, and that's because I don't wear that right now. I hope this list can be an inspiration for your Winter capsule wardrobe essentials.
Coats & Blazers
When the temperature drops, a coat or a blazer is the perfect item to layer on top of your outfit. Most people feel that a coat ruins the look, but if you pick the right one, it's just an extension of your outfit. I love wool coats in winter and wear them all the time. I already own a black one, and I'm eyeing a beige one to add to my capsule wardrobe. Blazers are a basic as well. Very classic and timeless if you pick the right ones.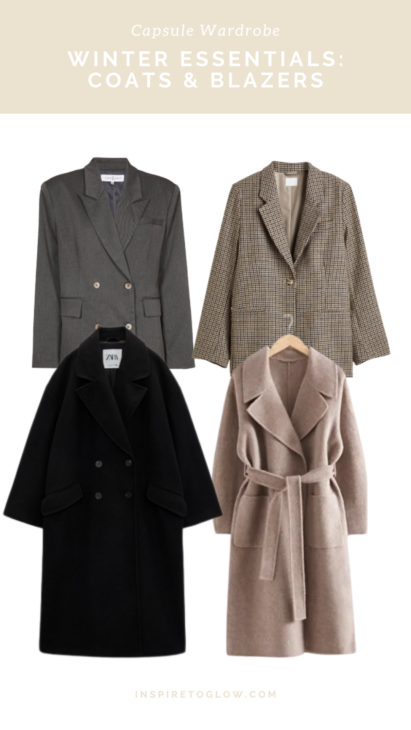 Knitwear
I basically live in knitwear when the temperature drops underneath 15 ° Celsius. So you can never have too many. It's a good idea to get a few nice jumpers in basic colors that you can combine with other pieces in your closet. My go-to colors are black, beige and a creamy white.
Tops
I mostly wear knitwear in winter, but occasionally I'll opt for a long sleeve when I'm wearing a blazer. When I'm wearing knitwear, I'll layer a bodysuit underneath for extra warmth. Keeping warm in those cold months is all about layering your outfit right.
Trousers
You only need a few good pairs of trousers for an effective capsule wardrobe. I would opt for classic styles like a straight leg or a loose fit, so they never go out of style. It's also a good idea to have both a black and blue pair of jeans. For the tailored trousers, I like to add in a neutral color as well to change things up a bit and also because I love monochrome outfits.
Shoes
I recently got a pair of Chelsea boots and I'm obsessed. They scream winter staple to me and come back in style every year. Beside a pair of boots, I also think it's a good idea to have some sneakers in your capsule wardrobe. They're easy to wear and easy to pair with different outfits. And of course you need a cozy pair of slippers for those cold days.
Accessories
And of course, you need some staple accessories that will finish off the outfit. A musthave is a good chunky scarf. And have you seen the Polène bags on TikTok? They are so pretty!
As you can see, I love neutrals. I tend to buy a lot of black, white and beige items. Lately, I've wanted to add some brown into the mix. But I also love to add a pop of color by wearing a pink coat or a fun colored scarf to change up my look. A Capsule Wardrobe doesn't have to be boring. It needs to be your style, so when you look into your closet, you get inspired. So, don't forget about your own style when building a Capsule wardrobe.
What's one of your Winter essentials?