2022 came to an end two weeks ago, and that means it's time for a reading wrap up! Before we do a deep dive into my reading stats and discover my favorite books of 2022, let's look at my reading goals. I always write down two or three reading goals at the beginning of the year. This helps me to make reading a priority, but I do keep the goals doable. I love reading and want to keep enjoying it without any pressure.
My 2022 goals:
Read 50 books ✔️ – > I read 55!
Read at least 6 non-fiction books ✔️ – > I read 9!
Try a new reading challenge ✔️ – > I participated in the Red (Taylor's Version) challenge by aliciaclarereads
Now, we've gone through my goals, it's time to get into my 2022 reading wrap-up. Starting off with my reading stats.
Want to see where I was 6 months ago reading-wise? Read all about it in my mid-year reading check-in.
Stats
I use both The Storygraph and my Notion reading journal to keep track of my reading stats. I love seeing my reading data, so let's talk about some of my favorite stats!
This year, I read 55 books, which equals to 19,362 pages. 46 books of these were fiction and 9 were nonfiction. I challenged myself to read more nonfiction, and started with a goal of 6 books. One every two months and I reached that and even read three more nonfiction books on top of that.
Moods & Genres
One of the things I love about The Storygraph is that they don't only give you genre stats, but also show you your top reading moods. My top 3 moods of 2022 were emotional, mysterious, and informative.
I read books from 28 different genres. My top 5 genres were contemporary, romance, young adult, historical and literary.
Format & Languages
Since I got an ereader I mostly read e-books. But occasionally I read a physical copy too. This year, I tried to read more books from my bookshelf. I don't own a lot of physical books, but I do own a couple that I haven't read yet. And that's something I want to change. So, I decided that I'm either going to read them soon or donate them.
I used to only read books in English, but since I started my Kobo Plus subscription, I've started reading in Dutch again. A lot of the books I read are only available as a Kobo plus book in Dutch, so that's why I read 34 books in Dutch in 2022. I also want to read more in French, which is still something I need to practice because reading in French isn't easy. But I did finish one book in French in 2022. So, that's a win!
Ratings
Last up is my The Storygraph star ratings chart. With an average rating of 3.55 stars, I can definitely say I had a good reading year. I only gave 8 out of the 54 books I reviewed a rating of 2.75 or less. So, that means 46 books had a rating of 3 or more stars. It also seems that I read a lot of great books, seeing that the rating I gave most was 4 stars.
Monthly Stats
Besides The Storygraph, I also created my own digital reading journal in Notion to track my reading. One of the things I track is my monthly reading stats. I put the different metrics in a monthly overview like the picture above. I track how many books and pages I read each month, how many were e-books and how many were physical copies, if it was a reread, a fiction or nonfiction book.
My favorite Books of 2022
I read 46 fiction books and 9 nonfiction books this year. With my average rating being at 3.55 stars, I can say that I had a good reading year and read a lot of great books. So, narrowing it down to my 5 favorite fiction and 2 favorite nonfiction books was difficult. But, I did it and I included three bonus fiction favorites, because I read too many good books this year not to mention a few more.
Find all the books I've read and my ratings on my The Storygraph-account.
Fiction Favorites
Circe by Madeline Miller
Fantasy – Historical – Literary
I saw this book everywhere on TikTok, but I had my doubts. I never read a book about Greek Mythology before, and I wasn't sure it would be something for me. Oh, was I wrong! I absolutely loved this book. It was my first 5-star rating of 2022. The writing style, the story, the strong female main character, I loved every part of it. If you're still in doubt about this book, give it a try, and it might surprise you, like it did me.
Seven Husbands of Evelyn Hugo by Taylor Jenkins Reid
Historical – Lgbtqia+
I already read and loved a fewbooks by Taylor Jenkins Reid and this one was the best yet. The writing style is easy to read, and the story keeps you hooked until the end. While reading the book you know there must be more to the story and when it's finally revealed it doesn't disappoint. The story is emotional and sad at times, but I would recommend it to anyone. I can't wait to read it again in a few years and relive the story all over again.
The Hate U Give by Angie Thomas
Young Adult – Contemporary
Another book I doubted, but ended up loving. I wasn't sure, because being 26 a young adult book doesn't always keep me interested. But this one is different. Yes, the main character is a teenager, but the story is so much more than a typical young adult story. It's emotional, sad, and reflective. I'm so glad I did read it. It's definitely a must-read.
Love in Colour by Bolu Babalola
Fantasy – Romance – Short Stories
This book sounded so intriguing, and it didn't disappoint. It's a book full of modernized mythical tales from West-Africa, Ancient Greece and the Middle East. I loved every single story. The underlying theme of the short stories is love. So, be prepared for some emotional but lighthearted and hopeful stories.
The Midnight Library by Matt Haig
Fantasy – Science Fiction – Speculative Fiction
I read some mixed reviews about this book, so I think you either love it or you hate it. And I loved it! I hadn't read a story like this before, and does it take you on an adventure. It's emotional, reflective and inspiring. The perfect book if you want to read something different.
Bonus favorites: A song for Achilles by Madeline Miller – The Mountain between us by Charles Martin – What Alice Forgot by Liane Moriarty
Nonfiction Favorites
Nicholas and Alexandra: The Tragic, Compelling Story of the Last Tsar and His Family by Robert K. Massie
Biography – Historical – History
Ever since watching Fox's animated fictional movie about Anastasia as a child, I was intrigued by her story. Getting older, I wanted to know more about the real story. That's when I stumbled upon Robert K. Massie's books about the Russian Tsars. I read all four, and my favorite one is the book about Nicholas and Alexandra. It's nonfiction, but reads like fiction, which is great because the book is 928 pages long.
Backwards & in Heels: The Past, Present and Future of Women Working in Film by Alicia Malone
Art – Gender – History
If you love everything filmmaking and female history, then this book is for you! It takes you through Hollywood history and tells you the story of women who changed the industry. It's full of inspiring and informative stories. It gives you a good idea of what it was like being a woman in filmmaking during that time.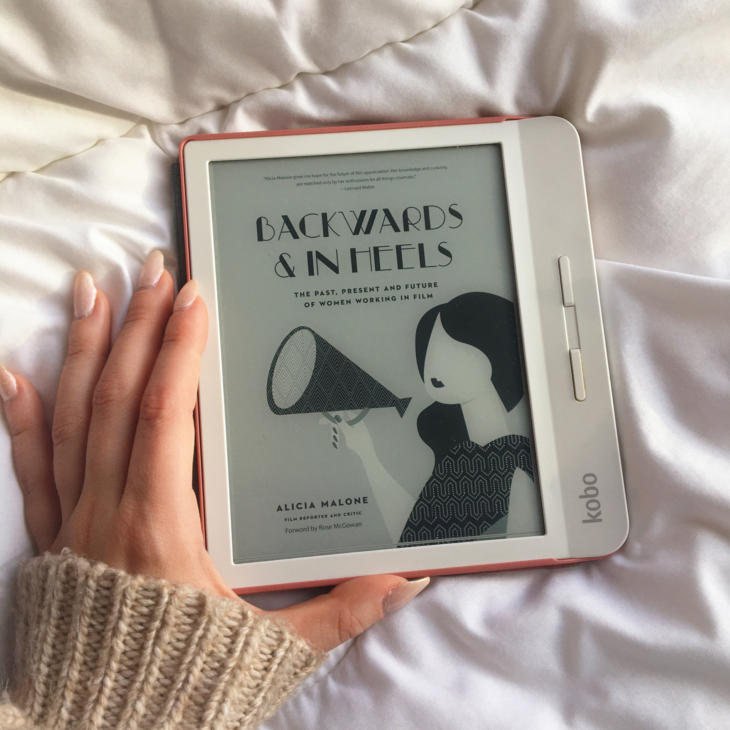 Reading Challenges update
I love reading challenges! With an ever growing digital TBR-list (currently at 317 books), reading challenges help me decide what books to read this year. Because choosing from a list of +300 books would take forever if I don't have a prompt to inspire me. In 2022, I participated in three reading challenges and finished two.
In 2023, I'm not doing the alphabet challenge anymore. I did it for two years, and it just gets harder and harder to finish the challenge. I might switch it out for a TBR challenge, so I can try to minimize that endless list of books I still want to read. Let me know if you know about any good reading challenges I can try!
What's the best book you've read in 2022?